COMPANY PROFILE


Holux offers a new set of solutions to improve European companies' satisfaction in purchasing lighting products from China. We are an experienced, professional and international team of merchants and technicians, represented in China and Europe. We work hand in hand to develop high-quality products together with carefully chosen manufacturers and to provide our customers with a steady product quality.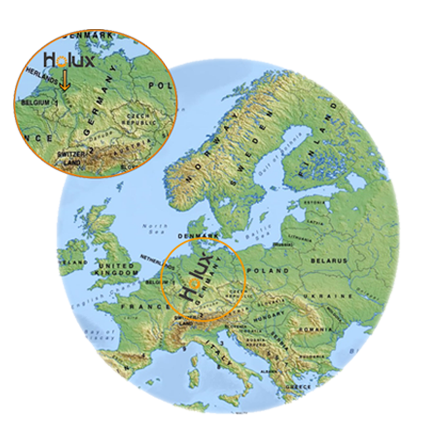 Holux GmbH is located in Geldern, North Rhine Westphalia, Germany, which is not a classic trading company, but rather the logical consequence to offer our quality and self-developed products directly on the intended target market. Here we maintain a warehouse, office and exhibition space. We provide full pre- and after sales service by dealing with our German company. Holux GmbH stores our series products as well as customer specific blanket order contracts and grants the problem-free purchase on account.

Holux lighting limited is located in Hangzhou, a city with beautiful scenery and convenient transportation. The most important thing is, that a large number of high-quality lighting suppliers are located in this area. Here we have our own R & D team and developed a number of patent products and accessories jointly with our suppliers, some of which are only available for sale by HOLUX GROUP.

We own an European wide trade mark, at the mean time, we keep providing OEM services with a solution of sharing our ENEC and GS certificates.



FAQ